Elektra - 16 October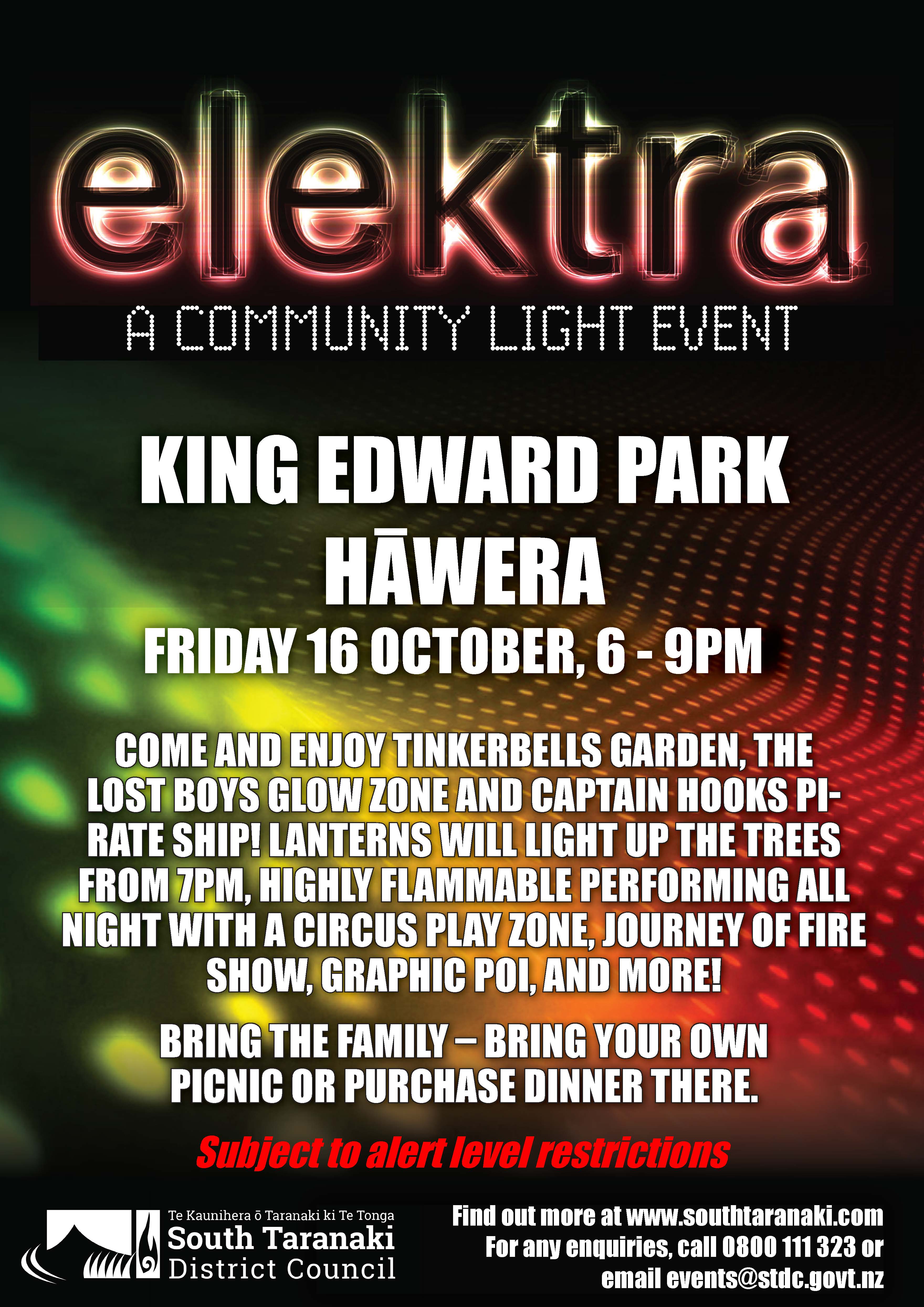 Elektra is lighting up the night (and King Edward Park) again for the second year in a row.
Elektra, a one-night-only festival themed around lighting and fire, will see over 400 paper lanterns light up the trees in Hāwera's King Edward Park.
This year, the Park will be decorated to theme, inspired by the parks famous Wendy statue – Peter Pan.
Come along and be enchanted by 'Tinkberbells Garden' (where you may spot a fairy or two), the 'Lost Boys Glow Zone' featuring some fabulous glow in the dark art by South Taranaki Creative Space, and 'Captain Hook's Pirate Ship' which will illuminate the night.
The evening will begin with a circus play zone, where children can learn skills including spinning plates, juggling, hoop and poi. Later there will be various performances including graphic poi and fire shows, from creative entertainment company Highly Flammable.
The children of Hāwera Primary, Turuturu, Tawhiti and Normanby Primary Schools have been busy decorating lanterns that will light up the trees of the park, alongside a few community groups who have put together displays for the night.
"We can't wait to host Elektra again, last year's event was over and above what we expected, the community really got behind it," says South Taranaki District Council events co-ordinator Hayley Old. "Get the whanau together and have a picnic tea and see what Elektra has to offer - buy it in town or from one of the park vendors, or bring your own and make a night of it!"
This free family-friendly event runs from 6pm – 9pm.
Elektra – King Edward Park, Hāwera, Friday 16 October, 6-9pm.