South Taranaki's Vounteer Champion
We are searching for South Taranaki's Volunteer Champion.
The National Volunteers Week is coming up between 22-26 June, and one of the highlights of that week is the chance for us to thank these amazing, often unsung heroes of our community. "We're looking for the superhero of superheroes," says Mayor Phil Nixon.
"Because of Covid 19, the Council has had to think a little differently this year. A get together with food and a nice cup of tea isn't realistic for us in this environment, so the community is being asked to nominate their South Taranaki superheroes. We want to hear about the people who make this district hum – they may be part of a charity, a social organisation, or just volunteer quietly in the neighbourhood, helping out at church or at the school, marae etc," Mayor Phil says. "Wherever they work, we want to acknowledge their commitment and say thank you."
The nominations will be forwarded to a panel of five – comprised of one elected member from each community board, as well as the Mayor – and four superheroes will be selected. From these four finalists, the 2020 Volunteer Superhero will be chosen.
All details and the nomination form are available below.
"Nominations are open now so start thinking about who your local stars are and please send the forms in before 9am on Tuesday 2 June," says Mayor Phil. "I know there are hundreds of great people out there who are the lifeblood of our community and we want to hear about them."
All finalists will receive a cash prize of $300 each, with the Superhero of Superheroes receiving a further $500 to donate to a South Taranaki community organisation of their choice.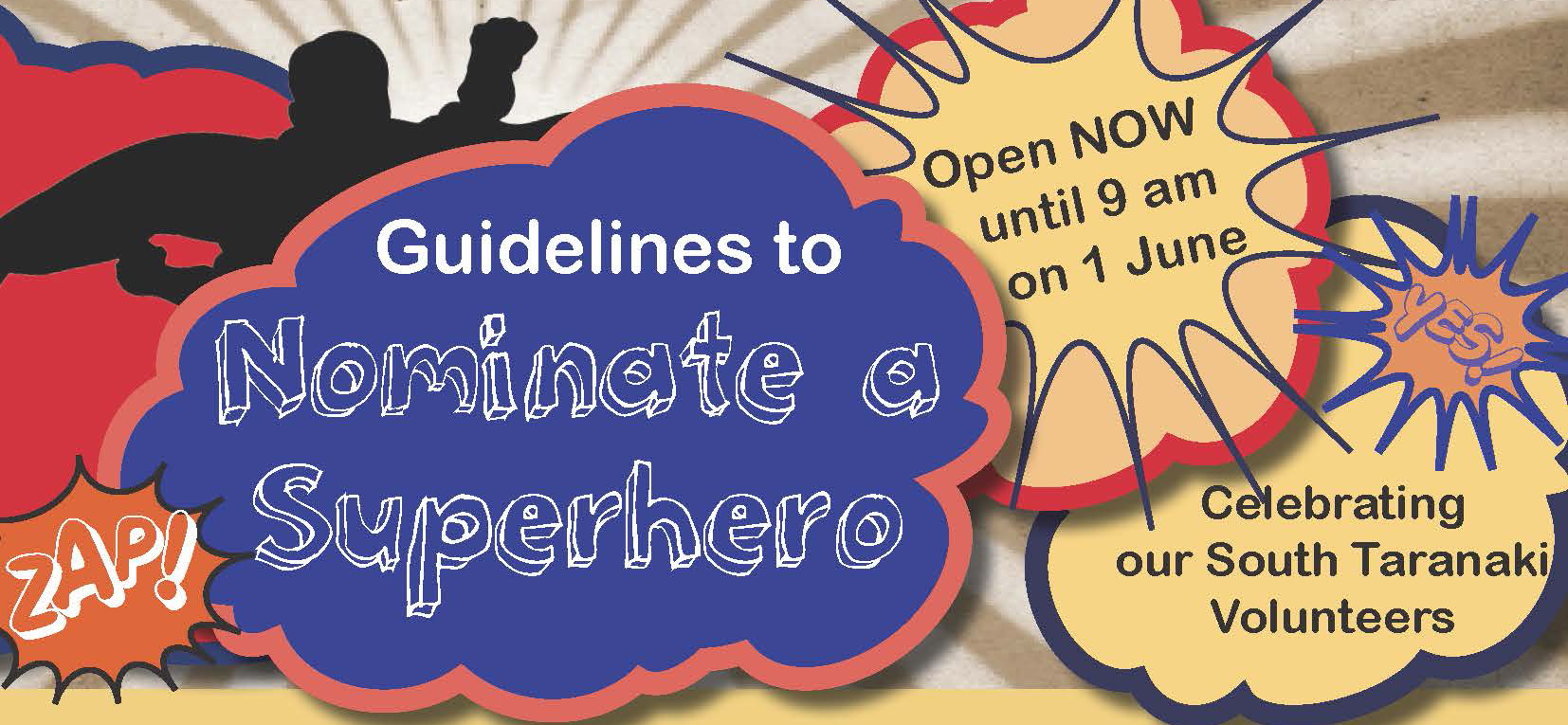 How do I nominate someone?
Download the nomination form (or pick one up from your local LibraryPlus, emailing us or calling us)
Complete the form following these guidelines:
Please ensure the person nominated knows you are making this nomination and the information provided will be used for publicity purposes
The nominee must reside and volunteer in the South Taranaki District Council area
Include your name, daytime contact number and email address
In 300 words or less, tell us about your nominee: What is it they do? Describe their volunteer work, What makes them a superhero? Why do they deserve to be recognised?
Closing date and time for nominations is 9 am, 2 June 2020. Late nominations will not be considered.
DELIVER the hardcopy form to the South Taranaki District Council, Administration Building, Albion Street, Hāwera or to any South Taranaki LibraryPlus
POST to Volunteer Superhero, South Taranaki District Council, Private Bag 902, Hāwera 4640
EMAIL to CDUnit@stdc.govt.nz
What happens next?
Once your form has been received, we will acknowledge receipt to you by phone or email.
Nominations will be forwarded to a panel made up of a representative from each of the four Council Community Boards (Pātea, Te Hāwera, Taranaki Coastal and Eltham) and Mayor Phil Nixon.
The Panel will choose four finalists, one nomination per ward - these will be announced on social media, local newspaper and media leading up to Volunteer Week from 11 June.
Finally, the Panel will choose a top Superhero from the finalists to be announced on social media and confirmed in local newspaper and media on Thursday 25 June.
Prizes: Finalists will receive vouchers or cash to the value of $300 each to spend in South Taranaki. The Superhero will receive an additional $500 to donate to a South Taranaki organisation of their choice.