Representation Review
Arotakenga Kaikōwhiri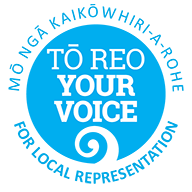 Tō Reo - Mō ngā Kaikōwhiri a-Rohe
Your Voice – For Local Representation
We are reviewing how the South Taranaki District Council represents our communities by way of a Representation Review.
All councils are required to review their representation every 6 years.
In November 2020, Council decided to establish a Māori ward/s and that decision triggered the need to review our Council representation for the local body elections in 2022 and 2025.
What are we reviewing?
How many councillors should represent the District? (South Taranaki can have between 5 and 29 councillors*)
Are they're elected from wards or 'at large' across the whole region, or a mix of both?
Should we retain our community boards?
Should the Māori representatives be elected from one ward or two?
* The amount of money set aside to pay the Mayor, Councillors and Community Board members is determined by an independent body called the Remuneration Authority. It is based on the population of the District. This means whether you have 5 Councillors or 29 Councillors the pool of funding available stays the same.
Council must consider 3 key factors to ensure effective representation of our communities. This is required for both the Māori and General electoral populations:
Communities of interest
Effective representation of communities of interest
Fair representation of electors
What's happened so far
During July 2021, we asked you to help us decide how many elected members we should have and what communities (wards) they represent by way of a survey.
Because there's so many different possibilities for our representation arrangements, as a starting point we put forward three possible options for our general wards and two options for our Māori ward/s
Click here to view the representation and options in a visual map view.
We received 62 submissions from the survey. Of those 11% supported option 1 for the general wards, 32% supported option 2 and 35% supported option 3. A further 40% supported option A for the Maori wards and 42% supported option B.
Initial Proposal
Based on this feedback the Council agreed on option 3 becoming the Initial Proposal for formal consultation.
Under the Initial Proposal the Council would be made up of 13 Councillors and a Mayor. The Councillors would consist of two Māori wards with one councillor elected from each ward and four general wards with two councillors elected from the Eltham-Kaponga ward; two from the Pātea ward; two from the Taranaki Coastal ward; and five councillors from Te Hāwera ward.
The ward boundaries shift slightly in the Initial Proposal.
The western boundary of Eltham-Kaponga Ward has moved west from Auroa Road to Ōeo Road.
Part of the southern boundary of Eltham-Kaponga Ward has moved south from Skeet Road to Tempsky, Ōmahuru and Austin Roads and Mangemange Stream.
Te Hāwera Ward western boundary has moved west to Inaha Road (and now includes Okaiawa)
Apart from the proposed boundary changes to the wards there are no changes to the Community Boards.
You can view the Initial Proposal in a visual map view by clicking here for the general wards and here for the Māori wards.
This review will determine how you and your community are represented at Council, so it's important that we get your feedback.
Formal consultation on the Council's Initial Proposal runs from 12 August until 23 September.
Key Dates
| | |
| --- | --- |
| 4 August | Council – Adopt Initial proposal for formal consultation |
| 12 August | Public Notice |
| 12 August - 23 September | Formal consultation on an initial proposal (1 option only) |
| 29 September | Hearing |
| 11 October | Council – considers all submissions and makes a final proposal |
| 14 October | Public Notice on final proposal |
| 14 October - 26 November | Objection period |
| 6 December | Final proposal goes to Local Government Commission |