Te Ramanui o Ruapūtahanga Resource Consent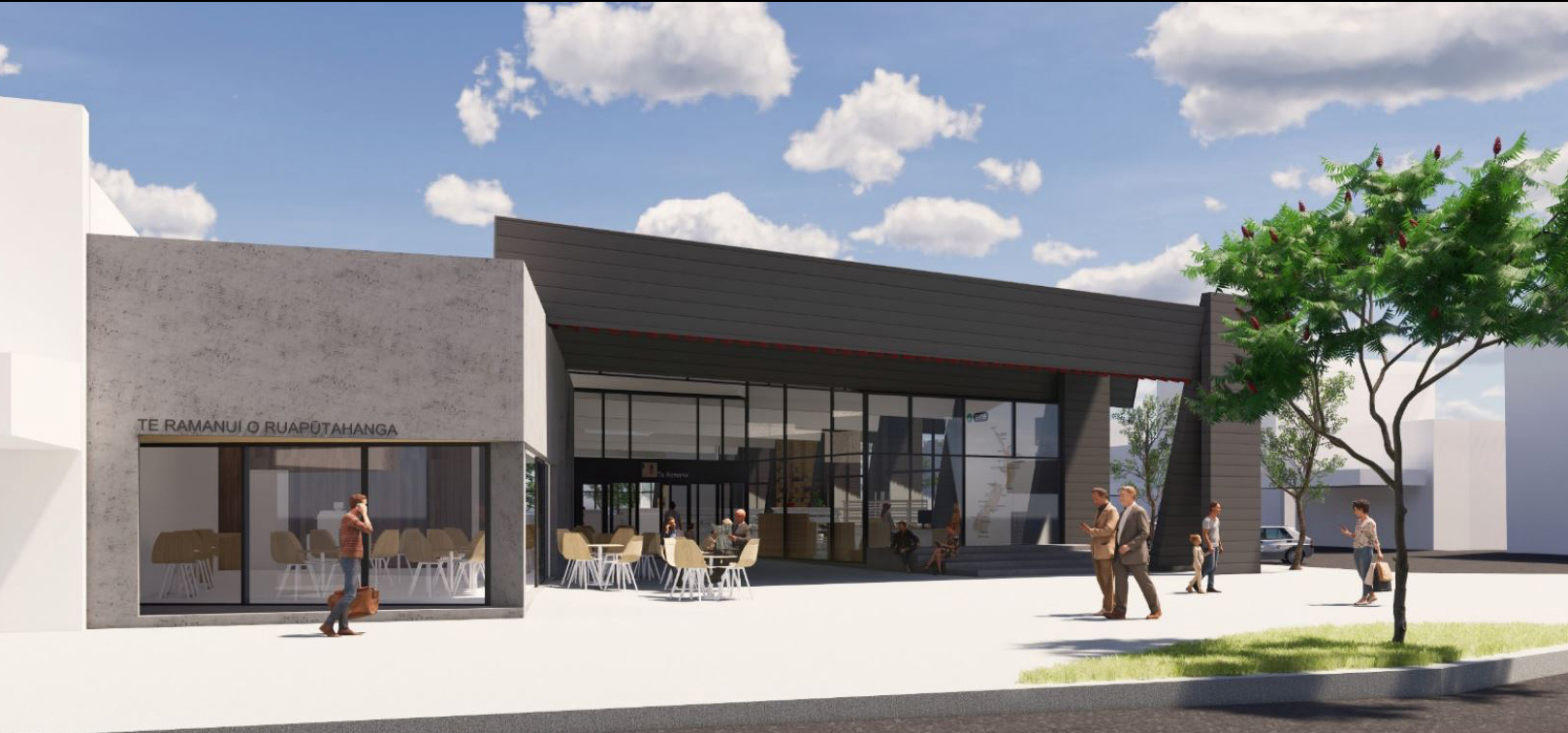 South Taranaki District Council's Community and Infrastructure Services Department (the applicant) has applied for a resource consent to develop a new multi-purpose civic centre and associated civic plaza on the corner of High Street and Regent Street, Hāwera. The proposal would trigger several rules in the South Taranaki District Plan and needs resource consent. Resource consent is also required under the Resource Management (National Environmental Standard for Assessing and Managing Contaminants in Soil to Protect Human Health) Regulations 2011 for soil disturbance and offsite soil disposal.
The proposed development would have a floor footprint of 1,522m2 and would accommodate the LibraryPlus, i-SITE and the Lysaght Watt Gallery. The site is in the Commercial Zone – Hāwera Town Centre and is subject to the rules and performance standards of this zone, in addition to those that apply district-wide.
The application is available to view online through the links below. The resource consent application includes an assessment of environmental effects, with appended assessments relating to heritage, landscape design, architecture, urban design, structural engineering, site contamination and traffic effects. A hard copy may also be inspected at the South Taranaki District Council Office, 105-111 Albion Street, Hāwera.
The submission period for the application closed 13th December 2019, two submissions were received. The submissions can be viewed via the document links below.
A pre-hearing meeting involving the applicant and the submitters has taken place on the 29th January 2020 and a Hearing has been scheduled for the 30th June 2020. Evidence provided by one of the submitters and the applicant have been provided below in the document links. Also provided below are the Section 92 request, Section 92A response and Section 42A report.
Because the South Taranaki District Council is both the applicant and the consenting authority, processing of the resource consent will be undertaken by an independent consultant on behalf of South Taranaki District Council and any decision regarding the application will be made independently of South Taranaki District Council.
1. Te Ramanui o Ruaputahanga Resource Consent Assessment of Environmental Effects
2. Appendix 01 – Signed Application Form
3. Appendix 02 Record of Titles
4. Appendix 03.1 Hawera Geotech Report
5. Appendix 03.2 Hawera PSI Report
6. Appendix 04.1 Hawera Inventory
7. Appendix 04.2 Heritage NZ Listing
8. Appendix 05 Concept Design Report 2018 Issue 1
9. Appendix 06 Architectural Design Statement 2019
10. Appendix 07 Structural Prelim Designs (1)
11. Appendix 08 Heritage Assessment of Environmental Effects
12. Appendix 09 Landscape Design Statement
13. Appendix 10 District Plan Compliance
14. Appendix 11 Urban Design Assessment
15. Appendix 12.1 ISA Report
16. Appendix 12.2 Estimate Build Strengthen
17. Appendix 13 Traffic Assessment
18. Submission - Fire and Emergency New Zealand
19. Submission - Heritage New Zealand Pouhere Taonga
20. Pre-Hearing Report – Councillor Andy Beccard
21. Section 92 - Information Request
22. Section 92A - Information Response
23. Section 42A Report
Appendix 1 – Proposed Draft Conditions
Appendix 2 – Technical Memo from Council's Development Engineer (Mr Suresh)
Appendix 3 – Relevant Objectives, Policies and Assessment Matters in the Plan.
24. Evidence – Applicant
Appendix 1 – Statements of Evidence from
Mr Guerin (planning)
Mr Thomson (architecture)
Mr Coolen (urban design)
Mr Bowman (historic heritage)
25. Evidence – Heritage New Zealand Pouhere Taonga
26. Further Evidence – Heritage New Zealand Pouhere Taonga
27. Legal Submission - Heritage New Zealand Pouhere Taonga
28. Minute No. 1 - Commissioner Alan Withy
29. Minute No. 2 - Commissioner Alan Withy
30. Minute No. 3 - Commissioner Alan Withy
31. Minute No. 4 - Commissioner Alan Withy
32. Minute No. 5 - Commissioner Alan Withy
33. Minute No. 6 - Commissioner Alan Withy
34. Minute No. 7 - Commissioner Alan Withy
35. Order of Proceedings - 30 June 2020
36. Video Tour
37. Planning and Aerial Maps
Planning Map 1
Planning Map 2
Aerial Map