Summer
Things to do in Summer
Summer 2021
Summertime, and the living is easy...Clearly Ella Fitzgerald was not down on her hands and knees weeding!
All manner of weed is now starting to take over the garden, Onehunga weed (Soliva sessilis) is creeping through your lawn, Black Nightshade (Solanum nigrum) is starting to arch over your annuals, while Hedge Bindweed (Calystegia sepium) has lined up its trumpeted shaped flowers through a hedge line as if a fanfare for royalty is about to be performed.
Whatever way you deal with weeds they do need to be removed. Weeds will suffocate natural light, compete with plants for essential nutrients and make your nicely planted garden look unsightly. Your best form of defence is knowing how a weed grows. Annuals such as Hairy Bittercress (Cardamine hirsuta) can be easily dealt with either by hand pulling or slicing the roots with a sharp garden hoe (best performed on a hot dry day), and leaving to dry out on the surface), do try to do this though before the weed's seed head has started to appear otherwise you might be helping with seed dispersal around the garden.
\Perennials like the common Dandelion (Taraxacum officinale) need some tougher treatment. Perennials grow from a large root system, they flower, they seed, die back over the colder months and live off the energy stored within that root system to be reborn in the spring. If a perennial has seeded during this time, they can become a real problem to deal with, so it is best to dig down deep making sure the full root has been removed, otherwise you might see it reappear very soon after pulling. This is due to some roots having adventitious buds along the root systems, meaning the plant has adapted to being snapped, by growing buds along its root system which can reshoot and grow once more. The worst offender in this category is Field Bindweed (Convolvulus arvensis) once this has been snapped it will be your nemesis all summer long…
Of course, there are easier methods of controlling weeds with herbicides and various products on the market. However, there is nothing as satisfying as seeing a garden bed stripped of weeds at the end of a good weed pull session. Food for the soul…
Pruning… Pruning, surely that should have been completed by now you are thinking to yourself. Yes, pruning during the summer months can have great benefits for plants. Firstly, this is the best time to prune shrubs that have flowered from early winter to late spring. Shrubs like Camellia, Weigelia and Philadelphus all benefit from a good prune this time of year, as flower for next year grows on this year's wood.
Do not be afraid to give fruit trees a light cut back at this time of year. Apples and pears among others all benefit from formative pruning. Thin out fresh excess growth, this allows for light and air to move through the tree helping the fruit to ripen.
Now is also the time to give new growth on your Wisteria plant a prune to promote growth for the racemes of flowers next spring. This is done by pruning back trailing stems or "whips" to three or four leaves on the current season's growth.
Here in Taranaki, we get some very dry, windy weather during the summer months. This all hinders moisture retention in the soil. The best way to prevent this from happening is an efficient irrigation system. There are many different varieties on the market, and they all do the job intended. My personal preference due to it wetting soil rather than the plant is to connect a weepa or soaker hose up to an irrigation timer. It snakes through the plants and is anchored down with irrigation/tent pegs.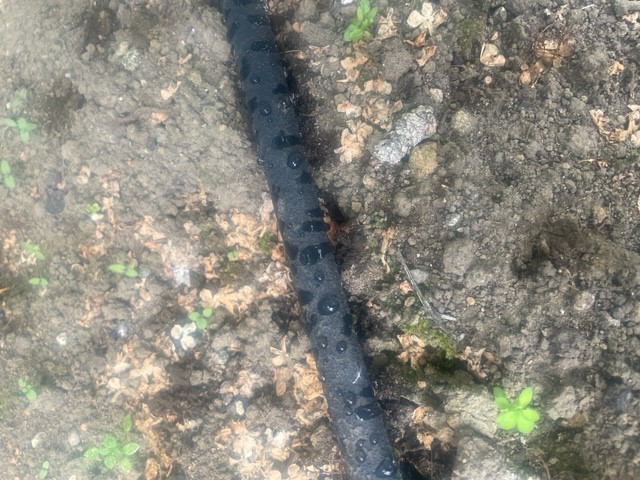 The irrigation timer is programmed to come on once or twice a week for 1-1½ hours to water the roots deeply, rather than 15 minutes daily just wetting the surface, which will eventually make the roots head for the surface soil. It is better to water either in the evening when the sun is going down or the morning which is preferential.
Morning watering means the plant and soil are not damp overnight which helps reduce the spread of fungal diseases, also the soil will retain more water during the day lessening the potential to dry out. It used to be thought watering during the day in full sun and getting the foliage wet would scorch the plants, this however was disproven around 12-15 years ago. These days it just makes more sense to do it either morning or evening to reduce the usage of water loss due to evaporation which, of course is better for the environment.
SM.
Have a safe and enjoyable summer.
From the Horticultural Services Team at King Edward Park.