Autumn
Things to do in Autumn
Autumn 2021
Vincent Van Gogh said it best - "As long as Autumn lasts, I shall not have hands, canvas and colours enough to paint the beautiful things I see."
Autumn is my personal favourite season. The Summer heat has started to subside, and most plants have self-propagation in mind (they really do not need us to help them do what they do best). Groundwork done during this season pays dividends on how your garden will respond during the Spring/Summer months.
Let's face it most people will be dreading the Autumn, as this is the time most deciduous shrubs and trees will drop their leaves in one fell swoop (side note: Evergreen trees are constantly losing and replacing leaf all year round). As always there are exceptions to the rule such as the Pin oak (Quercus palustris), hornbeams and beeches that hold their leaf from autumn through to spring.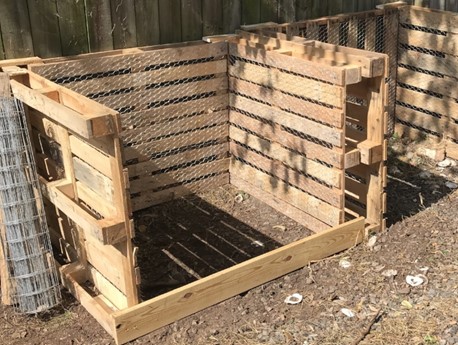 I see leaf fall as a fantastic opportunity for free compost and with 2204 street trees throughout the South Taranaki district, its rife for that free papery gold. All this leaf matter will rot down and provide your garden beds and borders with the essential nutrients needed to maintain a healthy vibrant garden. So, refrain from cleaning down and packing away the mower just yet, use it on a higher setting to pick up the leaf fall once or twice a week and compost it. Compost bins and tumblers can be bought from leading DIY stores, or you can make your own by screwing some old pallets together, just remember aerobic compost needs four factors – Organic Materials, Heat, Moisture and Air. The Heat is a natural occurrence caused by aerobic microorganisms, as they break down the organic material heat is produced. The air is a tad trickier to achieve. If you have a tumbler a quick turn on the handle should suffice. However, if you have a static compost bin you are going to have to turn the compost over manually to help introduce the air and water needed for the microorganisms to survive. If the compost bin is covered and unable to take natural moisture from the environment, either use a watering can or hose on a fine mist to add water to the mix while turning it over. Grass, vegetable waste, even torn up carboard boxes (a major source of carbon) all add needed nutrients to your compost. With regular turning a 400L compost bin should be ready for use on your garden beds 2-3 months later.
Before we use the compost, made during the previous summer for an autumn dressing, we should look through garden beds and borders. Remove dead, dying and collapsed stems of herbaceous perennials to the base with secateurs or by hand, if they are easily pulled, leaving the more interesting seed heads for winter interest and the wildlife. If herbaceous perennials Such as Hosta 'Empress Wu' and Canna's are starting to get crowded, divided large clumps into twos and threes by digging around and under the clump and lifting. There are three methods of division. Either by spade - this is done by laying your plant on its side and looking for the most obvious place to divide, then driving your spade through. Pulling apart – as easy as it sounds, simply tease the plant in clumps away from the main, giving you several smaller plants. This method tends to work better on smaller plants such as grasses. Thirdly and my preferred method for dividing stubborn herbaceous perennials is identifying your division point and sliding two garden forks back-to-back so the rear of the tines are touching, then pushing each handle of the forks together then bypassing them to lightly pry the plant apart. Again, do this several times to thin out the main clump.
When this is done replant a clump back in the hole the original plant came from with organic material, fertiliser and water, firm in and leave for the roots to establish over the winter period. Then in spring/summer enjoy the newly re-invigorated plant. Find areas in the garden for your other divisions, helping to fill spaces cheaply and effectively.
If there has been sufficient rain fall (usually left towards the latter months of autumn), now is the ideal time to plant trees and shrubs, this may seem counter intuitive. However, studies have shown due to the cooler air temperatures and the warmer soil at this time of year, a plant is more likely to lay down a stronger, deeper more stable root system during the autumn/winter months. This gives a sturdy foundation for what will come during the following seasons. Also, plants planted in autumn have been shown to need less water during the spring/summer as their roots will start to find natural sources of water within the soil. This helps conserve water over the summer months.
When you have selected your plant from your local garden centre, find the space where you would like to position it. Remember do your research on your garden beforehand, understand the way the sun moves around the garden, where your shadier and sunnier areas are and how long they stay in this situation. Then read up on the plant you have chosen to understand its needs, growth habit and eventual size. It would be pointless to plant a Heuchera 'lime marmalade' in a full sun position when it prefers semi to full shade, all you would be left with by the end of summer is a very frazzled heap where a plant used to be.
When planting select the right tools for the job, my preference is a sharp spade, garden fork and watering can.
Remove the plant from the container or wrapping it was purchased in, then gently tease, and spread the roots to get an idea of how big the diameter of you hole should be. Dig a hole with your spade no deeper than the root system but double to three times the diameter of the root system. Half fill the hole with water and let this soak in. Place your plant in the hole then use your fork to loosen the sides, recent studies have shown adding extra fetilisers or organic material do little and sometimes even hinder root growth at this early stage as there is less incentive for the roots to grow out into the surrounding soil. If in doubt use a slow-release fertiliser. Lightly back fill making sure soil is completely in between the roots to prevent air pockets, at this stage I usually like to add a little more water. Firm the soil gently around your plant keeping it level with the crown, but do not compact.
Shrubs and smaller trees should not need staking however, larger trees will. There are many ways this can be done the most common is two stakes driven into the ground to the depth of about a third of the overall tree's height (this lets the tree bend in the wind helping the roots to strengthen), either side of the tree. Hessian strapping is then looped around the tree and nailed to the stake the same is done on the opposite side, holding the newly planted tree firmly. The newly planted shrub or tree should then be watered daily up to 1-2 weeks after planting depending on rainfall.
Now is also the best time to get your spring bulbs in, again this gives them enough time to root in over the winter period, giving strong healthy plants during springtime.
Autumn is also the key time for some lawn maintenance. Over the summer months the lawn has taken a real pounding from foot traffic, drought, grubs etc.
Scarifying – The first thing to do for larger gardens is hire a lawn scarifier, this is a machine about the size of a lawn mower with two to three barbed or tined bars where you would usually find a mower blade positioned. Smaller gardens, use a spring tine rake. Both activities shred through the top layer turf lifting the thatch (thatch is made up of old grass stems, dead moss and genral debris), thatch usually thicker than about 10mm (1cm) will impact on how well the rhizomes spread due to water and fertilisers being unable to penetrate through it. When this task is completed, the moss lifted can be added to the compost heap at around 1 part moss 4 parts organic material due to its slower decomposition.
If your lawn is used for heavy foot traffic or gets quite waterlogged the next process in achieving a bowling green style lawn is Aerating, the standard garden lawn only need use this step once every 3-4 years. Aerating (sometimes known as spiking) is a process that helps provided better movement of water and air in the root zone, by relieving compaction around the rhizomes (root system of the grass). Again, if you have a larger garden, it would be better to hire a lawn aerating machine. For smaller gardens, a push aerator, or the trusty garden fork will do the job. This process is done by driving your fork in every 100-150mm (10 – 15cm) deep and hole width apart. This will be the depth and width of most mechanical and push aerators also. If need a lawn top dressing can then be raked in.
I can guarantee your lawn will be looking a patchy and unloved area at this stage, but push on, tough love is sometimes best.
Now, all that remains is to sow the seed. Understanding what type of lawn you have, and what you hope to achieve, will have bearing on the type of seed you choose.
Once you have chosen, the work begins. Identify the more worn areas of the lawn and mark a square around this area either with string or a hose pipe, just giving enough overlap into the healthier lawn. Cut this area out to the depth of around 40 – 50mm (4 – 5 cm). Lightly fork this area over, then fill in with a layer of topsoil and gently firm up to around 10mm (1cm) below the level of the lawn. Scatter the seed to the supplier's specified guidelines. If no rate is supplied a general rule of thumb is 15 – 25g per sq m. Cover with the remainder of topsoil to hide from the birds and gently firm to the level of the lawn. Water daily if there has been no sufficient rain fall, using either a hose on a fine setting/watering can with a fine rose attached. SM