Bring It!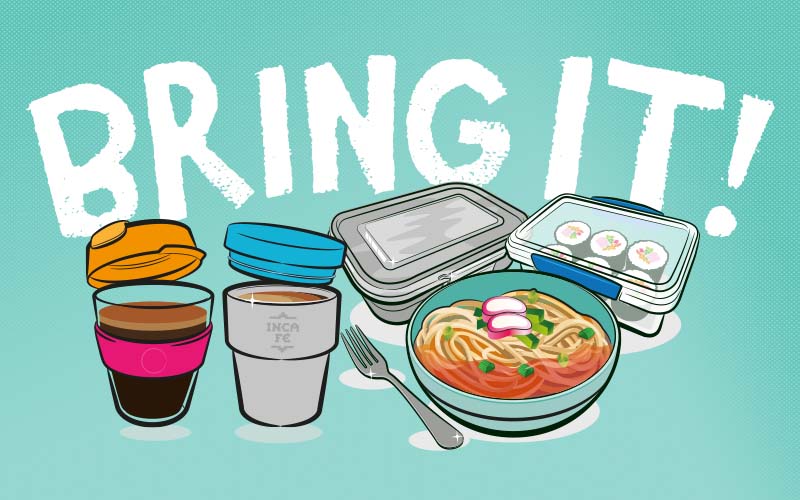 Bring It! Choose to reuse your containers and reduce food packaging waste
The South Taranaki District Council, Sustainable Taranaki, and eateries across South Taranaki are teaming up to make it easier for you to make the switch to reusable coffee cups and food containers.
As part of the Bring It! campaign, cafes and food businesses across the district are encouraging customers to bring their own takeaway containers and coffee cups so that these can be used when purchasing takeaway food and drinks. Some Bring It! eateries will even provide a discount when you bring your own cup/container.
Reducing food packaging waste is a pressing issue across Aotearoa. Over 295 million takeaway coffee cups, and even more single-use containers, end up in New Zealand landfills each year. Single-use coffee cups and dirty plastic containers aren't recyclable, and compostable cups and containers need to go to a commercial composting facility to break down. An estimated three million coffee cups and lids sadly go to landfill in our region each year after a single use, along with a growing number of food containers.
So, the best choice for environmental sustainability is to instead bring your own clean reusable cup and container whenever you order takeaway food or coffee.
By supporting Bring It! eateries, you're minimising waste, supporting local, and getting some delicious kai all at the same time. Better yet, you're even helping businesses lower their running costs that they would otherwise have to put towards single-use packaging. Talk about a win win!
See below for a full list of South Taranaki eateries currently participating in the Bring It! campaign. You can also keep an eye out for the Bring It! posters displayed in participating businesses.
Have questions, or know a local business wanting to get involved? Get in touch with us at envirosus@stdc.govt.nz.
Participating Businesses:
| | | |
| --- | --- | --- |
| Eltham | The Coffee Float | Offers a discount when customers bring their own cup |
| Hāwera | Arabica Coffee Bar | |
| | Caffeinate | |
| | Caltex | |
| | Countdown | |
| | Marracbo Cafe | |
| | Rookie Sister Kitchen | Discount for people who bring their own containers |
| | Someday | |
| Ōpunakē | Arty Tarts | |
| | Dreamtime Surf Shop | 50 cent discount for reusable cups |
| | Sugar Juice Cafe | |
| Pātea | Cafe Fika | |